ARTS AND HERITAGE CENTRE
The Town Mill exists to support the community of Strathaven and the surrounding area by offering rooms and halls for hire for events and exhibitions as well as promoting a wide range of events organised by our members.
The Town Mill was built in the 17th century in the shadow of Strathaven Castle, another well known historic landmark. Known throughout the county for years as a focal point for community gatherings and particularly musical clubs and groups, It has had many uses throughout its life, even housing the local tourist information office for a short time.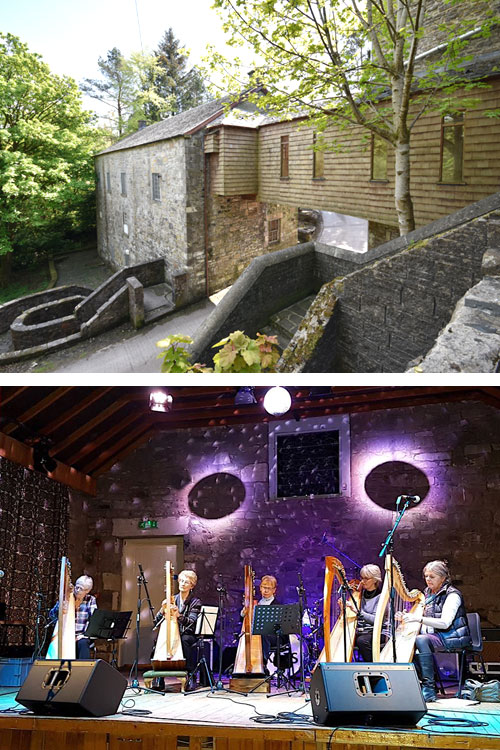 Please see below information for some of our upcoming events or click to see our full calendar.
CALLED BACK : music and words inspired by the poetry and letters of EMILY DICKINSON.
FRIDAY 6th October at 8pm at the Granary.
Emily Dickinson's enigmatic and brilliant poetry was largely unread and unpublished during her lifetime but she is now considered one of America's greatest and most original poets. John Hinshelwood's sensitive musical interpretations based on a selection of her poetry, accompanied by words read from her letters open a window on the life and work of this remarkable woman and the passions and preoccupations which she poured into her writing. Music: The John Hinshelwood Band featuring John Hinshelwood, Tim Black and Ed McGlone; Words: Fiona Wellstood.
Doors open at 7.30pm and seating is unreserved so arrive in plenty of time to claim the best spot. Tickets £10 from Eventbrite
NICE LIKE THAT
Friday 20th October, 8pm, ACOUSTIC CAFE NIGHTS AT THE GRANARY.
Neala Hickey and Jeri Foreman have been propping up bluegrass sessions in bars and festivals around the country for several years now, blowing listeners away with their commanding delivery of early country and bluegrass songs. Based in London and Glasgow respectively, they tour regularly with bluegrass outfits Lunch Special and The Fountaineers and are launching this duo project thanks to popular demand. This duo aims to highlight their powerful harmony singing and explore a more inclusive angle of bluegrass. Featuring guitar, mandolin and fiddle this is sure to be an emerging force on the UK bluegrass and country scene.
Doors open 7.30pm
Entry on door £10
Including filter coffe, tea and tasty homebaking.
With support.
STRICTLY MUSICALS!
fundraiser event!
FRIDAY, 3rd November, 2023, 7.30pm TOWN MILL
Fresh from the success of their smash hit production of Sunshine on Leith we will be singing medleys from Les Mis, Oliver!, Mary Poppins, Rent among others.  Also songs from Dear Evan Hansen, Sister Act, Sweet Charity.
Studio32 return to the Town Mill for an evening of songs from the shows, performed in their unique concert style." We will be singing medleys from Les Mis, Oliver!, Mary Poppins and Rent among others.  Also songs from Dear Evan Hansen, Sister Act and Sweet Charity."
Join us for an evening of beautiful melodies and rich harmonies. Will your favourites be in the mix?
Tickets: £10.00 ( plus booking fee) from eventbrite. eventbrite.com/e/strictly-musicals-fundraising-event-tickets-722911757527?aff=oddtdtcreator
PAPER TICKETS CAN ALSO BE PURCHASED AT No.40 STRATHAVEN (from Wednesday this week)
All profits go to the Town Mill.
STRATHAVEN COMEDY CLUB
     dates:
Saturday, 7th October, 2023. starts 8pm TOWN MILL
Hosted by Jojo Sutherland, full line up coming soon...
Saturday, 16th December, 2023. starts 8pm
Conner Burns headlining.
Conner is fresh from an unbelievable Fringe run that saw him run extra shows. More details to follow...
tickets available on www.seetickets.com/go/strathavencomedy
STEP into CHRISTMAS with the TARTAN TENOR!
SATURDAY, 2nd December, 2023 at 7.30pm TOWN MILL
Join Scotland's very own The Tartan Tenor for an evening of top class musical entertainment in a fabulously festive concert "Step into Christmas with the Tartan Tenor" at the Strathaven Town Mill Theatre on Saturday 2th December 2023, 7.30pm.
Featuring a stunning selection of songs, from Christmas Classics such as White Christmas to Traditional Ballads like Ave Maria and Toe-tapping Jazzier arrangements like Santa Claus is Coming to Town - all laced together with charm, style and sophistication - this show is the perfect way to get yourself into the festival spirit! And if that's not enough...This year the Tartan Tenor will be joined by some very special guests from Dramalam Performing Arts!
General Admission £16.00 + £0.50 booking fee
A VERY BUBLÉ CHRISTMAS
Friday, 8th December, 2023.  7.30-9.30pm TOWN MILL
"A very Bublé Christmas" - back at the Town Mill by popular request.
Get into then Christmas spirit and prepare to be captivated by the fabulous talents of Michael Hastie , Scotland's number one Michael Bublé tribute act, and the musicians of the record-breaking Scottish big band, Jon Ritchie & That Swing Sensation .
This highly anticipated show is back by popular request, delivering all your big band and Bublé favourites. Immerse yourself
in the smooth, seasonal sounds of Michael Bublé for an unforgettable Christmas celebration. Don't miss out on this fun festive experience that will leave you feeling merry and set up for a Holly Jolly Christmas .
Tickets now available:
THE WEE SCOTTISH BIG BAND
Friday, 15th December, 2023.  7.30-10.30pm TOWN MILL
Join the Wee Scottish Big Band and special guest vocalists for a special "Golden Song" selection from Sinatra to Bublé, including arrangements from Quincy Jones, Jools Holland to the classic Duke Ellington and Count Basie. You can expect a real blast from one of the hottest big bands in Scotland with a special festive twist...
Come swing with us!
The Wee Scottish Big Band performs regularly at theatres and venues across Scotland. Performing with special guests such as Bruce Adams, Ryan Quigley to name a few, the band is acclaimed as "one of the hottest big bands in the UK" and of course the loudest! They love interacting with the audience so don't worry if you want to dance or sing along, just enjoy the night - they re playing to entertain you!
www.theweescottishbigband.co.uk
CILLA @ THE SWINGING 60's
Saturday 24th February 2024 7:30-10PM 2023. TOWN MILL
Cilla & The Swinging 60s is a highly entertaining show, stylishly celebrating the life and music of the legendary Cilla Black as well as a
handpicked selection of her well-known contemporaries, including Dusty Springfield, Lulu, Petula Clark, The Beatles and many more.
Starring the unforgettable voice as seen on ITV and previous West End Singer, Sandy Smith as Cilla, the show will take you on a rollercoaster
journey through many of the greatest pop songs of the 60s including Cilla's own chart toppers 'Anyone Who Had A Heart' "Alfie" and 'You're
My World'.
This show is selling out theatres around the country and the reviews speak for themselves.
Other great songs of the decade are featured including "Dancing in the Street" "Shout "and "Do You Love Me" "Proud Mary" which will leave you all with that "feel-good" vibe. Hit after hit brings you to your feet 'Cilla & The Swinging 60s' has everything – smash hit songs, great music, dancing, singing and a huge smiling memory with the unforgettable Cilla Black.
Event Details
Doors Open at 6:45PM
From 7:30PM to 10:00PM
An Integral Part of Working Life
The Mill was built in 1650 by William, the Second Duke of Hamilton, who was then resident in Strathaven Castle which sits adjacent to the Mill. It played an integral part in the working life of Strathaven for three and a quarter centuries.
Follow us on Social Media

Don't be shy. We'd love to hear from you. Let us know if you have any questions and we'll reply as soon as possible!
Strathaven Town Mill
Stonehouse Road, Strathaven, Lanarkshire. Registered charity number: SC010579