ARTS AND HERITAGE CENTRE
The Town Mill exists to support the community of Strathaven and the surrounding area by offering rooms and halls for hire for events and exhibitions as well as promoting a wide range of events organised by our members.
The Town Mill was built in the 17th century in the shadow of Strathaven Castle, another well known historic landmark. Known throughout the county for years as a focal point for community gatherings and particularly musical clubs and groups, It has had many uses throughout its life, even housing the local tourist information office for a short time.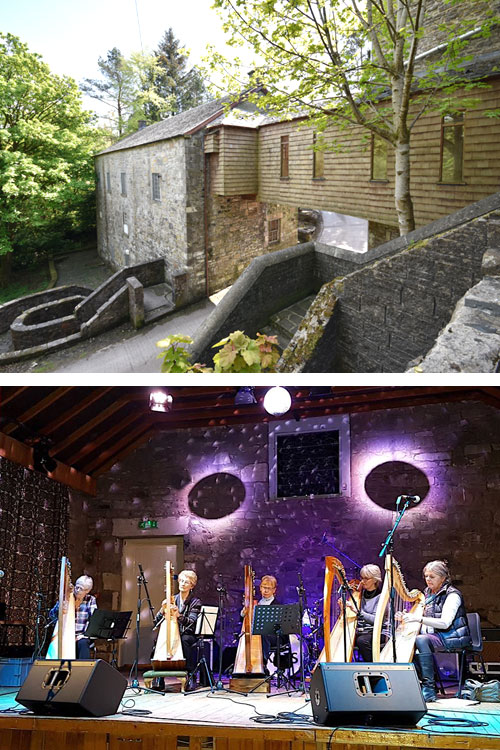 Please see below information for some of our upcoming events or click to see our full calendar.
In the Heights
THURSDAY 11 NOV at 7:30pm
Lights up on Washington Heights...The scent of a cafecito caliente hangs in the air just outside of the 181st Street subway stop, where a kaleidoscope of dreams rallies this vibrant and tight-knit community. At the intersection of it all is the likable, magnetic bodega owner Usnavi (Anthony Ramos), who saves every penny from his daily grind as he hopes, imagines and sings about a better life.
Colin Bryce the Tartan Tenor
SATURDAY 13 NOV at 7:30pm
Following a sold-out performance back in 2019, The Tartan Tenor in Concert is returning to the Strathaven Town Mill with a brand-new show featuring favourites from the worlds of Musical Theatre, Opera and Scots Song in a stunning concert show which will turn everything you think you know about a vocal recital upside down.
The Flaming Blackhearts
FRIDAY 26 NOV at 7:30pm
The Flaming Blackhearts are Michelle McManus, Steve Caban and Tim Black. The talented trio have been performing together for a number of years with their unique blend of Americana, Country and Blues heard through a mixture of brand new songs and quirky covers.
Mr Fibbers: Musical Comedy for Kids
SATURDAY 22 JAN at 3:00pm
After performing sold out shows across Scotland, Mr Fibbers is back and ready to rock the house again. Prepare yourselves for lots of musical madness from the maestro himself as he performs some new songs, and some old favourites, that are guaranteed to make you laugh.
An Integral Part of Working Life
The Mill was built in 1650 by William, the Second Duke of Hamilton, who was then resident in Strathaven Castle which sits adjacent to the Mill. It played an integral part in the working life of Strathaven for three and a quarter centuries.
Follow us on Social Media

Please see below information on some of our news stories about The Mill or click to see all our previous articles.
We're delighted to welcome the Wee Scottish Big Band back to the Mill for our first post-lockdown gig of 2021. This will be a show not to be missed with some of the finest jazz musicians playing arrangements from Glen Miller to Buddy Rich and beyond, and songs from...
read more
Don't be shy. We'd love to hear from you. Let us know if you have any questions and we'll reply as soon as possible!
Strathaven Town Mill
Stonehouse Road, Strathaven, Lanarkshire. Registered charity number: SC010579