Welcome to the Strathaven Town Mill
ARTS AND HERITAGE CENTRE
To give the Town Mill back to the community of Strathaven and the surrounding area by offering rooms and halls for hire for events and exhibitions as well as promoting a wide range of events organized by our members.
The Town Mill was built in the 17th century in the shadow of Strathaven Castle, another well known historic landmark. Known throughout the county for years as a focal point for community gatherings and particularly musical clubs and groups, It has had many uses throughout its life, even housing the local tourist information office for a short time.
The Arts and Heritage Centre was set up to bring back the good times to the Town Mill and reinstate it to its pomp as the local venue for the arts and local culture. Over the years we have made huge steps toward our goals, and continue to be committed to the the cause.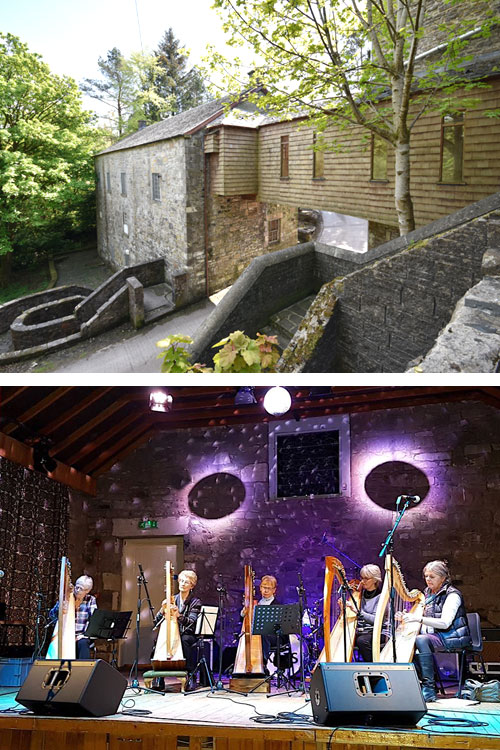 Please see below information on some of our exciting upcoming events or click to see our full calendar.
A Star is Born
THURSDAY 18 APRIL SOLD OUT
FRIDAY 19 APRIL
Bradley Cooper plays musician Jackson Maine, who discovers - and falls in love with - struggling artist Ally (Lady Gaga). She has just about given up on her dream to make it big as a singer... until Jack coaxes her into the spotlight..
Bhangra Beatles
SATURDAY 27 APRIL, 7:00pm SOLD OUT
The Bhangra Beatles are not your average Beatles tribute band. The 7 piece fuse the songs of The Beatles with the high octane beats of traditional Punjabi folk music and Bhangra, to create a sound that is truly unique and guaranteed to fill any dancefloor.

An Integral Part of Working Life
The Mill was built in 1650 by William, the Second Duke of Hamilton, who was then resident in Strathaven Castle which sits adjacent to the Mill. It played an integral part in the working life of Strathaven for three and a quarter centuries.
Follow us on Social Media

Please see below information on some of our news stories about The Mill or click to see all our previous articles.
Well what a fabulous night we had at the Town Mill last night watching this amazing show! Lots of laughs, poetry and songs. How lucky are we in Strathaven that we can attract such talent to play…
read more
Don't be shy. We'd love to hear from you. Let us know if you have any questions and we'll reply as soon as possible!
Strathaven Town Mill
Stonehouse Road, Strathaven, Lanarkshire. Registered charity number: SC010579