ARTS AND HERITAGE CENTRE
The Town Mill exists to support the community of Strathaven and the surrounding area by offering rooms and halls for hire for events and exhibitions as well as promoting a wide range of events organised by our members.
The Town Mill was built in the 17th century in the shadow of Strathaven Castle, another well known historic landmark. Known throughout the county for years as a focal point for community gatherings and particularly musical clubs and groups, It has had many uses throughout its life, even housing the local tourist information office for a short time.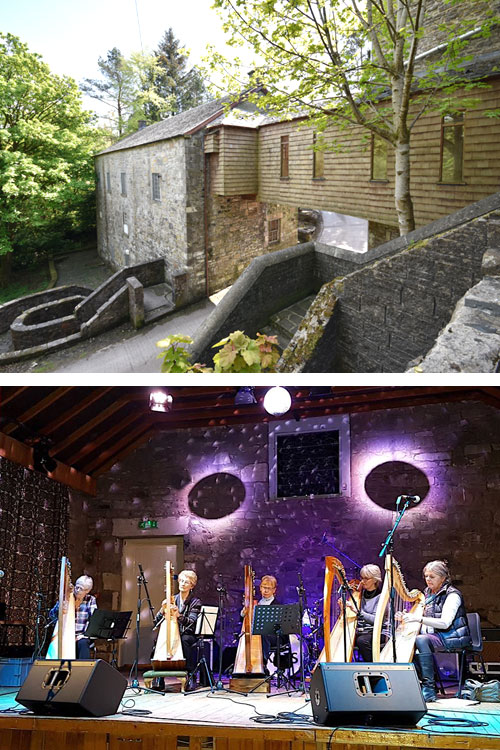 Please see below information for some of our upcoming events or click to see our full calendar.
The Wee Scottish Big Band
 FRIDAY 20 MAY at 7:30pm
The Wee Scottish Big Band return to the mill for another evening of big tunes and foot-stomping songs from Duke Ellington and Glen Miller to Count Basie, Sammy Davis Jr and Michael Buble.
This time they're joined by award-winning trumpet player Ryan Quigley. 
Emily Duff
 SATURDAY 28 MAY at 7:30pm
Emily Duff music has been compared to Lucinda Williams, Loretta Lynn, Nick Cave, Marcia Ball, The Carter Family and Steve Earle. Rolling Stone Magazine writes that Emily Duff is, "One Part Patti Smith, One Part Muscle Shoals." Songwriter Wille Nile claims Emily to be "The Real Thing and a Great Artist." And Henry Yates at Country Music magazine writes, "Emily Duff is a performer whose time is surely now."  
An Integral Part of Working Life
The Mill was built in 1650 by William, the Second Duke of Hamilton, who was then resident in Strathaven Castle which sits adjacent to the Mill. It played an integral part in the working life of Strathaven for three and a quarter centuries.
Follow us on Social Media

Please see below information on some of our news stories about The Mill or click to see all our previous articles.
We're delighted to welcome the Wee Scottish Big Band back to the Mill for our first post-lockdown gig of 2021. This will be a show not to be missed with some of the finest jazz musicians playing arrangements from Glen Miller to Buddy Rich and beyond, and songs from...
read more
Don't be shy. We'd love to hear from you. Let us know if you have any questions and we'll reply as soon as possible!
Strathaven Town Mill
Stonehouse Road, Strathaven, Lanarkshire. Registered charity number: SC010579