Welcome to the Strathaven Town Mill
ARTS AND HERITAGE CENTRE
To give the Town Mill back to the community of Strathaven and the surrounding area by offering rooms and halls for hire for events and exhibitions as well as promoting a wide range of events organized by our members.
The Town Mill was built in the 17th century in the shadow of Strathaven Castle, another well known historic landmark. Known throughout the county for years as a focal point for community gatherings and particularly musical clubs and groups, It has had many uses throughout its life, even housing the local tourist information office for a short time.
The Arts and Heritage Centre was set up to bring back the good times to the Town Mill and reinstate it to its pomp as the local venue for the arts and local culture. Over the years we have made huge steps toward our goals, and continue to be committed to the the cause.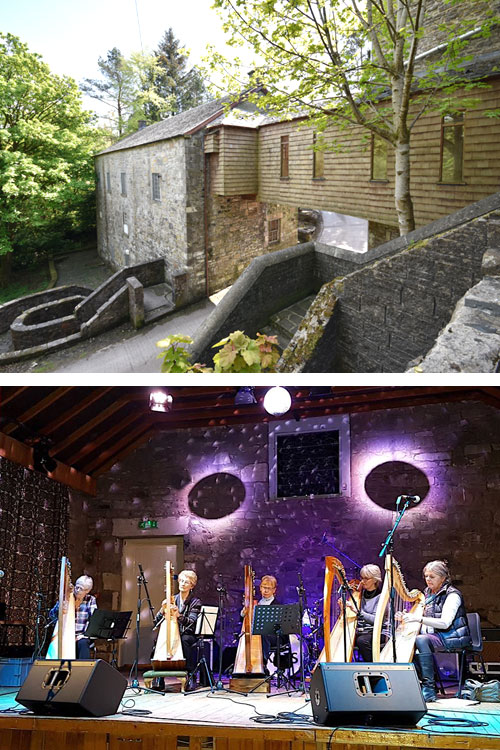 Please see below information on some of our exciting upcoming events or click to see our full calendar.
Ocean's Eight
THURSDAY 22 AUGUST
Debbie Ocean, a criminal mastermind, gathers a crew of female thieves to pull off the heist of the century at New York's annual Met Gala. 
Starring Sandra Bullock, Cate Blanchett, Anne Hathaway, Mindy Kaling, Awkwafina, Rihanna, Helena Bonham Carter and Sarah Paulson.
Scottish Film Festival
FRIDAY 20 - SUNDAY 22 SEPTEMBER
This year we're launching the Scottish Film Festival at Strathaven Town Mill where we'll be showing a series of films about, featuring and filmed-in Scotland. Check back here for more information and out programme of events soon! 
Colin Thomas Bryce
SATURDAY 16 NOVEMBER

Join Tenor Colin Thomas Bryce at the Mill in November for an evening of Musical Theatre, Opera and Scots song. 
Scottish born Colin enjoys a busy UK and international concert schedule ranging from theatre shows to recital performances to corporate entertainment and as a guest entertainer on some of the world's finest cruise lines
An Integral Part of Working Life
The Mill was built in 1650 by William, the Second Duke of Hamilton, who was then resident in Strathaven Castle which sits adjacent to the Mill. It played an integral part in the working life of Strathaven for three and a quarter centuries.
Follow us on Social Media

Please see below information on some of our news stories about The Mill or click to see all our previous articles.
Well what a fabulous night we had at the Town Mill last night watching this amazing show! Lots of laughs, poetry and songs. How lucky are we in Strathaven that we can attract such talent to play…
read more
Don't be shy. We'd love to hear from you. Let us know if you have any questions and we'll reply as soon as possible!
Strathaven Town Mill
Stonehouse Road, Strathaven, Lanarkshire. Registered charity number: SC010579