Welcome to the Strathaven Town Mill
ARTS AND HERITAGE CENTRE
To give the Town Mill back to the community of Strathaven and the surrounding area by offering rooms and halls for hire for events and exhibitions as well as promoting a wide range of events organized by our members.
The Town Mill was built in the 17th century in the shadow of Strathaven Castle, another well known historic landmark. Known throughout the county for years as a focal point for community gatherings and particularly musical clubs and groups, It has had many uses throughout its life, even housing the local tourist information office for a short time.
The Arts and Heritage Centre was set up to bring back the good times to the Town Mill and reinstate it to its pomp as the local venue for the arts and local culture. Over the years we have made huge steps toward our goals, and continue to be committed to the the cause.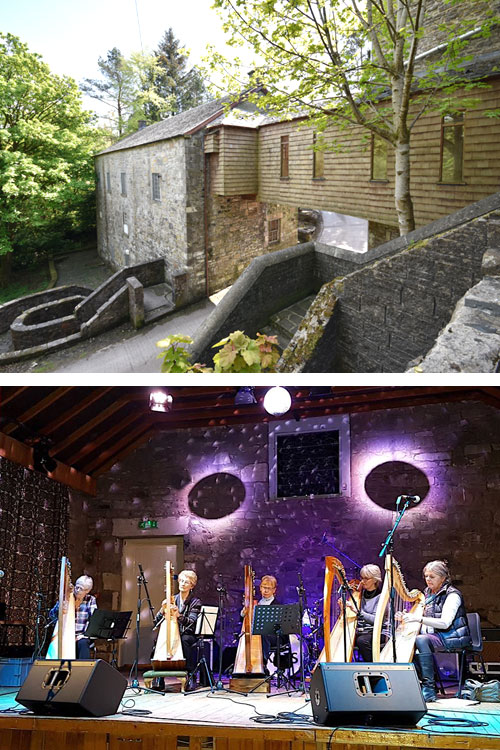 Please see below information on some of our exciting upcoming events or click to see our full calendar.
A Wee Bit of Country
THURSDAY 5  & SATURDAY 7 SEPTEMBER
A evening of country music with a cash bar for all you cowboys and girls.
Doors open at 7 and show starts at 7:30. Tickets £8. Yeeeeeeha!
Balloonatics 2 - Get Pumped
SUNDAY 15 SEPTEMBER
Balloonatics is the award nominated and world travelled family comedy show for anyone who is crazy about Balloons. Its silly, it's noisy, its energetic, it's chaotic, it's got plenty for adults as well as kids, and is the perfect antidote to the serious world around us.
When you join the Balloonatics army, there is only one thing you have to remember, you don't have to be good at something for it to be fun."
Chris Henry: Around the World in 80 Dates
SUNDAY 15 SEPTEMBER
Scottish Comedian of the Year finalist Chris Henry has arrived to take you on a whirlwind global gigglefest as he attempts to find The One.  The critically acclaimed show, previously brought to life by a bachelor whose number of stories is only matched by the notches on his bedpost, reveals what he's discovered along the way, will it be The One, the many or the one that got away?Prepare for a blind date like no other.
Scottish Film Festival: 
Wild Rose
FRIDAY 20 SEPTEMBER
This year we're launching the Scottish Film Festival at Strathaven Town Mill where we'll be showing a series of films about, featuring and filmed-in Scotland. Our opening film is Wild Rose, set in Glasgow and starring Jessie Buckley and Julie Walters. As well as the film we have a couple of extra special surprises on the way.
Scottish Film Festival: Sean Saturday
SATURDAY 21 SEPTEMBER
The winner of our audience vote for their favourite Sean Connery film. VOTE NOW
Scottish Film Festival: Brave
SUNDAY 22 SEPTEMBER
Join us on Sunday afternoon for our family film Brave. Packed with more Scottish actors than you can shake a haggis at Kelly Macdonald, Billy Connolly, Emma Thompson (on her mother's side). Elinor (voice), Robbie Coltrane, Kevin McKidd and Craig Fergusonl. Plus music from Julie Fowlis.
The Wee Scottish Big Band
FRIDAY 1 NOVEMBER
The Wee Scottish Big Band perform are some of the finest jazz musicians in the country. Arrangenents from the Swing era to the modern sounds of Buddy Rich, Arturo Sandoval and Pat LaBarbera , songs from Frank Sinatra and Ella Fitzgerald to Michael Bublé. Show not to be missed !
Colin Thomas Bryce
SATURDAY 16 NOVEMBER

Join Tenor Colin Thomas Bryce at the Mill in November for an evening of Musical Theatre, Opera and Scots song. 
Scottish born Colin enjoys a busy UK and international concert schedule ranging from theatre shows to recital performances to corporate entertainment and as a guest entertainer on some of the world's finest cruise lines
An Integral Part of Working Life
The Mill was built in 1650 by William, the Second Duke of Hamilton, who was then resident in Strathaven Castle which sits adjacent to the Mill. It played an integral part in the working life of Strathaven for three and a quarter centuries.
Follow us on Social Media

Please see below information on some of our news stories about The Mill or click to see all our previous articles.
Glasgow has a film festival. Edinburgh has a film festival but Scotland doesn't. We've decided to put that right with a celebration of the Scottish actors, directors, screenwriters and the locations that makes Scotland unique.
read more
Don't be shy. We'd love to hear from you. Let us know if you have any questions and we'll reply as soon as possible!
Strathaven Town Mill
Stonehouse Road, Strathaven, Lanarkshire. Registered charity number: SC010579